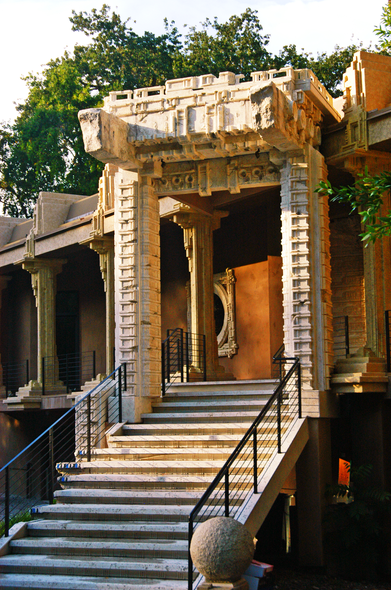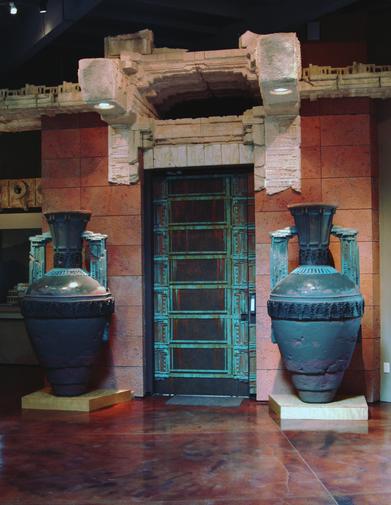 WHAT IS THIS PLACE?
Eleven years in the making, artist Douglas Fenn Wilson's hand‑crafted house marks his comeback from a catastrophic flood in 2005 that destroyed the modest ranch style house where he'd lived for 21 years. The new residence, elevated on piers well above the floodline, weaves together archeology, futuristic design, and story into a walk-in work of art that the artist calls "his most inspired canvas."
The Moon House derives its name from the Native Americans who populated the Sonoma Valley and called the region "the Valley of the Moon." It also pays homage to an earlier Glen Ellen artist (Jack London) who named his house "The Wolf House."
2005's flood left the artist's property ravaged. Towering laurel trees lay uprooted across the creek; what had once been bank was now scours and undercuts. Restoring and stabilizing the creekbank was the first order of business—a three‑year permitting and engineering ordeal (2007 to 2009) that Wilson would call "a bureaucratic abyss."
Throughout 2008 the artist drew up plans and built a full-scale model of his grand and innovative house‑to‑be—the same multi-layered fusion of realism and geometry that he had explored in paintings and sculptures throughout his career. His love for archeology, futurism, Frank Lloyd Wright, Pre-Columbian architecture, and low relief pattern and geometry took on new shape and scale.
Finally, in November 2010, concrete trucks boomed onto the property and put the project in motion. By Christmas, 78 piers ten‑and‑a‑half feet tall formed a foreboding footprint. Construction lasted until mid 2013 (two‑and‑a‑half years). The architectural detail however—mold making, casting, and fabrication of the many interior elements—extended into 2016. Throughout, the artist worked alongside carpenters, tradesmen, and casters making meticulous models, molding concrete, and most of all creating prototypes for 97 interior and exterior decorative components including urns, paneling, friezes, window surrounds, furniture, and countertops. Two years later, in 2018, Wilson broke ground on a final rec room on the northwest side of the property, creating an interior courtyard and increasing privacy.
What stands today as The Moon House Antiquarium, bridges "house" with theater, sculpture, and fiction. In a curious way, Wilson's vision calls up past and future and suspends us in a time and place very much its own.